Heidi Klum ofende a los Hindues con su disfraz de Halloween
Heidi Klum realmente hizo molestar a los Hindues con su disfraz de Halloween. La super modelo y animadora de Project Runway molestó y ofendió profundamente a la comunidad Hindú en USA al llevar a la fiesta de Halloween celebrada en New York este fin de semana, un disfraz de la Diosa Kali, una figura sagrada de la cultura Hindú. Varios líderes Hindúes se vieron muy molestos con esta representación de la Diosa Kali, algunos hasta tildaron el hecho como 'denigrante' y solicitan que Heidi Klum realice una disculpa formal. La Diosa Kali es muy reverenciada en el Hinduísmo y debe estar en templos no debe ser usada en clubes para publicidad o para causar efectos dramáticos, expresó uno de los líderes de esta cultura en USA. Los Hindúes dan la bienvenida a Hollywood y a otros de la Industria del entretenimiento a integrarse en la cultura del Hinduísmo, pero deben tomarla en serio, con respeto y no solo usar la religión como decoración o tomando ventaja de esta para cumplir una agenda. Ooh Ooh Heidi, creo que debes una sincera disculpa.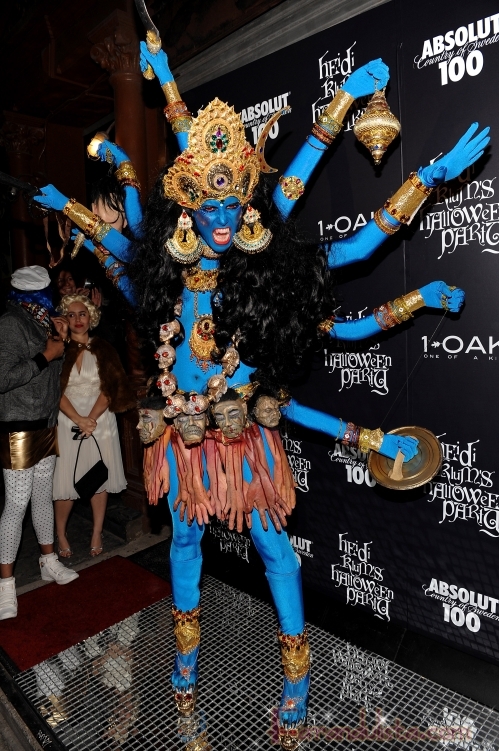 Heidi Klum molestó a la comunidad Hindú de USA con su disfraz de la Diosa Kali
usado en la Fiesta de Halloween de Hollywood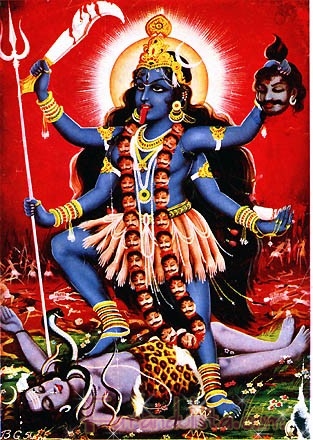 Heidi Klum has really upset America's leading Hindus by dressing up as Goddess Kali for a Halloween party at the weekend.
Indo-American statesman Rajan Zed says, "Goddess Kali is highly revered in Hinduism and she is meant to be worshipped in temples and not to be used in clubs for publicity stunts or thrown around loosely for dramatic effects.
"Hindus welcome Hollywood and other entertainment industries to immerse themselves in Hinduism, but they should take it seriously and respectfully, and not just use the religion for decoration or to advance their selfish agenda. Casual flirting sometimes results in pillaging serious spiritual doctrines and revered symbols and hurting the devotees."
Zed is not alone in his outrage; various other Hindu leaders, including Jawahar L. Khurana of the Hindu Alliance of India, and Bhavna Shinde of Hindu Janajagruti Samiti, have also criticised Klum for posing as Goddess Kali on Halloween (31Oct08), calling it "denigrating".
[bgs]Heidi Klum, super modelos[/bgs]