Demi Lovato no se corta ni se lastima, dice representante
El representante de la estrella de Disney y protagonista de Camp Rock, Demi Lovato ha negado que se corte o se lastime a sí misma. El alboroto comenzó este Jueves luego de que unas fotos de Demi – en el cumpleaños de Miley Cyrus en Disney (Octubre) – la mostraran posando con lo que parecen ser heridas de cortadas en las muñecas. Pero el representante de Lovato niega categoricamente que  Demi se corte a sí misma, son alegaciones completamente falsas. Demi tenía dichas marcas porque se colocó unas pulseras plásticas muy apretadas temprano ese dia que le dejaron esas marcas en las muñecas.
Demi Lovato isn't a cutter, her rep says. The 'Net blew up Thursday with speculation that the "Camp Rock" Demi Lovato star was into self-harming. Within hours, "Demi Lovato" and "cutter" racked up to 65,000 search results on Google. The "evidence"? Lovato, 16, accidentally flashed several angry red marks on her inner wrist during Miley Cyrus' Disneyland birthday bash … back in October.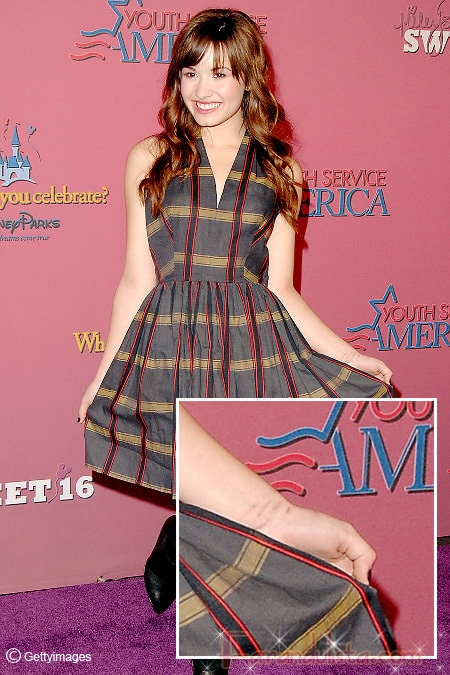 Estas alegaciones son completamente falsas, dice la representante de la cantante, Lillian Matulic.

["These allegations are completely false," says the singer's rep, Lillian Matulic.]

Demi, señaló, que tenía puestas varias pulseras plásticas apretadas temprano ese dia las cuales dejaron esas marcas en sus muñecas.

[Demi, she points out, was wearing several oh-so-hip tight plastic bracelets earlier that day which "left indentations on her wrist."]
Mmm… Ha! No imaginé que semejante tontería hiciera este alboroto, ciertamente si te pones pulseras apretadas te dejan esas marcas, justamente ayer me dejé unas pulseras muy apretadas y al quitármelas mis muñecas lucían exactamente así … Ooh, oh! Menos mal los paps no me vieron… LOL
[bgs] Demi Lovato, Disney, Camp Rock[/bgs]