A Hayden Panettiere la pillan en un bar y llama a la policia
Hayden Panettiere fue sorprendida en un nightclub (23 de Diciembre)  por los chicos de seguridad – como Hayden tiene 19 años no puede entrar a estos sitios ni beber – obviamente le pidieron su licencia, vieron que era menor de edad y la sacaron del sitio… sin devolverle su licencia. Qué pasó luego? Hayden llamó a la policía. Claro, Hayden no se molestó porque la sacaran, si no porque no le devolvieron su ID. So, cómo entró Hayden al nightclub? Por la puerta de empleados, pero su travesura le duró solo 10 minutos hasta que un seguridad notó su carita de menor de edad. Los del club afirman que a Hayden se le informó que debía dejar el lugar y que ellos tenían una norma, si eres menor de edad y te pillan adentro se quedan con tu ID hasta que llegue la policía. Obviamente el problema terminó allí, el club no presentó cargos, ellos solo querían seguir las reglas para mantener su licencia de licores. Y Hayden llamó a la policía porque viajaba al dia siguiente y necesitaba que le devolvieran su licencia de conducir. The End.   Hayden Panettiere, 19, had to call police to a Suffern, N.Y., nightclub on Dec. 23 after getting kicked out of a 21-and-over venue and having her driver's license confiscated. Panettiere, accompanied by six girlfriends, entered the NV Lounge at roughly 9:15 p.m. via the employee entrance and lasted about 10 minutes before security spotted and carded her. Hence her need to call the cops to the scene to retrieve her license ASAP.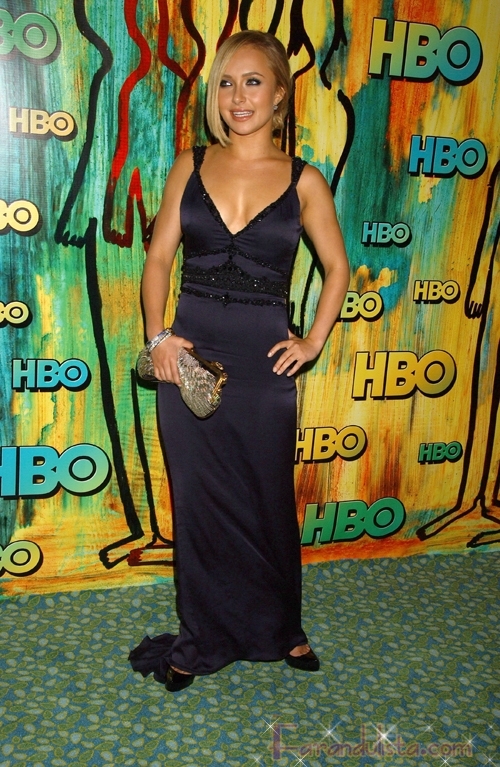 Hayden Panettiere fue pillada en un nightclub
Hayden en la HBO's Post Primetime Emmy Awards Reception, Hollywood, (21/09)
Es gracioso como hicieron un escándalo por esta nota, Big Deal! Hayden dijo que como alguien le había abierto la puerta trasera ella entró a saludar a unos amigos, no a beber. Por si no lo saben en USA no se puede beber hasta los 21 años. Es la Ley.
[bgs]Hayden Panettiere, Heroes[/bgs]