Britney Spears tendra magia en su Tour Circus – literalmente –
Britney Spears tendrá un escenario mágico durante su Tour Circus, para el cual está trabajando muy fuerte. Britney hará las veces de asistente del ilusionista y comediante Ed Alonzo 'The Misfit of Magic' quien presentarán un truco de magia durante el tour. Ed Alonzo habló con E! y reveló algunos detalles sobre el espectáculo. Britney ha estado ensayando en zapatos deportivos pero se ha probado algunos tacones. En el escenario habrán tres círculos inmensos como los de las grandes producciones de Las Vegas, será un espectáculo increíble! Britney Spears Circus Tour will be magic! I mean, literally. Ed Alonzo, "the Misfit of Magic" will be doing a number with Spears on her Circus tour, tells E! News. The pop star will serve as Alonzo's assistant in the bit. Spears is in warm-up clothes and sneakers during rehearsals, although she has been testing out different pairs of heels. He reveals some details on the show. Check it out!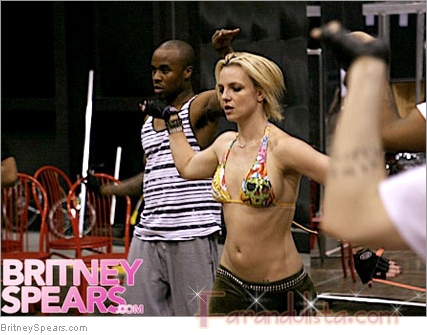 Estaremos haciendo algunos trucos clásicos de magia pero con alta tecnología. Haremos algunas disecciones, transposición, acto de desaparición y de aparición y si hago un truco ella no lleva las de ganar, ella estará metiendose dentro de las cajas o yo la picaré.

We're going to be doing the classics of magic but a little high-tech," he said. "We'll be doing a little dissection, transposition, a vanish, an appearance—and if I do a trick, she doesn't just hold the props, she's actually getting inside the big boxes or I am slicing her up."

Hice los trucos muy fáciles para ella… pero hay algunas cosa complicadas que está haciendo, que se pensaría que un contorsionista tendría que hacer, o una asistente calificada de mago. Pero como ella es bailarina, tiene sentido ponerla en el acto y funciona, es muy muy buena en ello.

I "made [the tricks] really easy for her…but there are some complicated things that she is doing that you would think a contortionist would have to do, or a trained magician's assistant," Alonzo said. "But because…she's a dancer, it really makes sense to put her in the magic, and it works and she's really, really good at it."

Algunos trucos dan mucho miedo, pero ella está decidida a hacerlo sin ningún temor.

"Some of it's pretty scary, but she gets right in there with no reservations," he added.

[Alonso] aseguró que durante todo el show se estaran presentando con la mejor música de Britney que la gente ha amado por años y por supuesto, algunas de las canciones favoritas de su nuevo album.

he did assure us that the overall show will feature "the best music of Britney that people have loved over the years and, of course, brand-new favorites from the new album."

Será un concierto visualmente grandioso. Es como estar viendo un gran Cirque du Soleil de alta tecnología, pero con una muy enfocada artista en medio.

"It's going to be an amazing concert for people to watch," he said. "It's like watching a big Cirque du Soleil high-tech circus, but with a really focused star in the middle of all of this."
Los Farandulistas Argentinos me preguntan si Britney Spears irá de Tour este año a Argentina, solo hay una solicitud para que esto ocurra. Aún no hay ninguna fecha. Las únicas fechas y ciudades que están ya establecidas para el Tour Circus son para USA y la UK. Ve las fechas y ciudades del Tour Circus de Britney.
[bgs]Britney Spears[/bgs]