Jennifer Aniston y Brad Pitt se reunen? – OK! Magazine
OK! Magazine en su nueva portada tiene a Jennifer Aniston y a Brad Pitt con el titular: Su sonrisa fue solo para él [Brad]  La reunión de Jen y Brad. Jen le demostró al mundo (y a John Mayer) que aún ama a Brad. Detalles de su reunión! OOh boy! Realmente tendremos este tipo de historias de Jen y Brad toda la vida? Sólo porque Jennifer Aniston miró a Brad un momento durante su presentación en los Oscar,  ya sacaron semejante historia. Qué querían, que mirara el techo? Encima van y se los colocan justo en frente. No, es que casi se los sentaron al lado! The New cover of OK! Magazine reads Jen & Brad reunion. Her smile was only for him. Jen shows the world (and John) that she still loves Brad. Inside their amazing meeting!! OMG!! Just because Jen looked at Brad for a moment during the Oscars… they made this story?? Of course she loves Brad, obviously there are some feelings, they were a couple! No, but you must read what the source says on Jen and Brad. It's really cheesy and more of same story.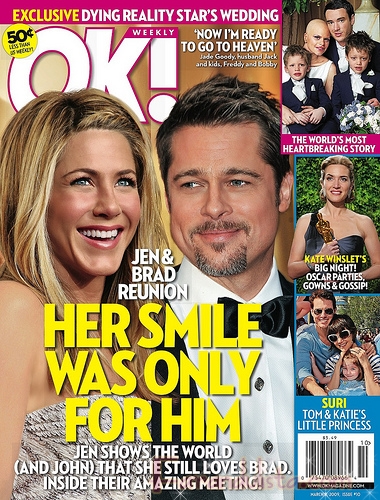 Una vez que sus ojos se encontraron con los de Brad esa noche, eso revivió todos los viejos sentimientos. Ella nunca ha dejado de amar a Brad.

"Once her eyes met Brad's that night, it rekindled all the old feelings," the source tells OK!. "She has never stopped loving Brad."

Solo porque Brad cayó a los pies de Angelina, no significa que haya dejado de amar a Jen. Él tenía esta obsesión con Angelina y sentía que debía intentar una relación con ella.

"Just because Brad was swept off his feet by Angelina, it didn't mean he stopped loving Jen," says the source. "He has this obsession with Angelina and he felt he had to explore a relationship with her."

Las cosas parecian una bola de nieve y lo próximo que supo Brad era que tenía seis niños. No había marcha atrás.

"Things just seemed to snowball and the next thing Brad knew, he had six kids," the insider tells OK! of the shocking romance that blossomed on the set of the Jolie-Pitt action flick Mr. & Mrs. Smith in 2005. "There was no turning back."
OK, wait a minute! Esa fuente quién es?  Jen?  Porque al leer esas citas parece que fuese Jen la que hablara. Esto parece una novela, en serio. Me encantaba esta pareja, pero pensar que todavía hay 'algo 'es como fantasioso. Brad ya está con Angelina, tienen seis niños, él ama a su familia. Obviamente siempre habrán sentimientos entre ellos, entre Jen y Brad,  cada uno formó parte de la vida del otro.
[bgs]Jennifer Aniston, Brad Pit, Revistas[/bgs]