Paris Hilton se escapa con Doug Reinhardt, ex de Amanda Bynes
Paris Hilton se escapó a Tokyo con el ex de Amanda Bynes, Doug Reinhardt. Qué tal? Una fuente confirmó a E! que Paris Hilton y Doug Reinhardt se fueron juntitos a Tokyo en una escapada romántica. (Ooh well, fanáticas de Rpattz pueden respirar tranquilas!) La parejita quienes – según una fuente –  lleva algunas semanas saliendo secretamente (tan secretamente que Paris estaba muy pegadita con Rpattz!) salieron del aeropuerto Internacional de L.A el martes en la mañana en un vuelo de American Airlines rumbo a Japón. Una fuente le dijo a E! que Paris tiene pautadas algunas presentaciones de negocios en Japón a finales de esta semana y ella invitó a Doug para que le acompañara, just for fun! En vez de llevar a su asistente se llevó al ex de Amanda Bynes…  Paris, Paris nunca cambias! Paris Hilton and Doug Reinhardt fly to Tokyo together for a romantic getaway. Sources confirm to E! News exclusively that Paris Hilton and Doug Reihardt (Amanda Bynes' ex) left Los Angeles International Airport late Tuesday morning on a United Airlines flight bound for Tokyo.  The coy couple we're told, have been hooking up secretly for late-night trysts at Paris' place for several weeks now.  A source tells E! News that Paris has several business-related appearances scheduled in Japan later this week, and she invited Doug to join her for some fun.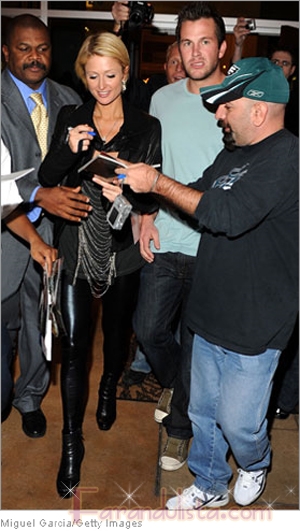 Paris Hilton y Doug Reinhardt se van de viaje juntos a Tokyo
Paris Hilton en el aeropuerto de Los Angeles LAX  (18/02)
bauergriffin.com
Aiiiinsss Tokyo!
[bgs]Paris Hilton, Doug Reinhardt[/bgs]