Rihanna y Chris Brown se casaron en secreto
Rihanna y su novio Chris Brown se casaron en secreto en Miami, así lo reporta la nueva edición Star magazine. El tabloide afirma que Chris Brown y su novia Rihanna – quien fue víctima de una golpiza por parte del cantante el 8 de Febrero – se reunieron en la mansión de P. Diddy en Miami , donde Chris le pidió perdón y le propuso matrimonio. OMG!! Solo espero que esto sea solo un rumor… Aahh, right! La reconciliación también era un rumor y resultó ser cierto… Baaahh Rihanna resultó ser la más idiota de todas! The latest cover of STAR magazine is serving up even more rumors about Rihanna and Chris Brown, according to the tabloid Rihanna's supposedly secretly married to Chris Brown in Miami.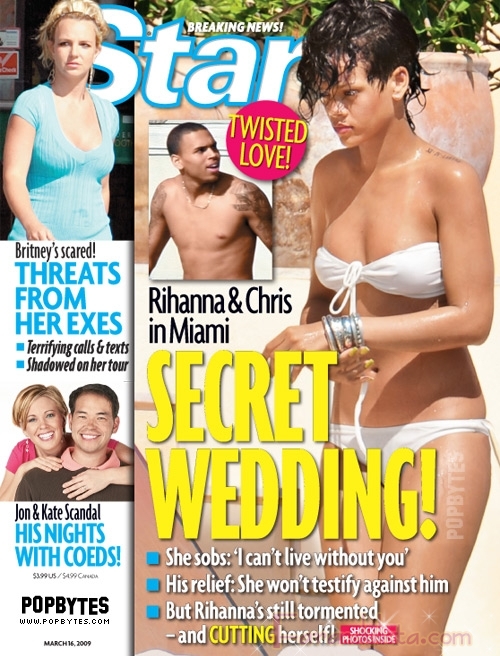 Rihanna y Chris Brown se casaron en secreto en Miami – Star magazine
popbytes.com
Para sorpresa de algunos, Rihanna se reunió con Chris Brown el fin de semana – pero hicieron mas que eso! En la edición del 26 de Marzo de Star reportamos que la pareja tuvo un emotivo encuentro en la Mansión de $14.5 millones de Diddy en Miami, durante la cual, un muy sentimental Chris se disculpó, y rogó le perdonara y le propuso matrimonio.

To the shock of many, Rihanna reunited with Chris Brown over the weekend — but they did more than that! In the March 16 issue of Star we report that the couple had a tearful face-to-face meeting at Diddy's $14.5 million Miami mansion, during which an emotional Chris apologized, begged for forgiveness and proposed to her on the spot.
Todo lo que ella siempre quizo era estar junto a [Chris] por siempre. RIhanna está en búsqueda de un esposo y dos hijos antes de los 25. Ella cree en cuentos de hadas, y quiere vivirlos con Chris. Ella estaba frente a él y le confesó, 'No puedo vivir sin ti'.

"All she's ever wanted was to be with him forever," a source tells Star. "Rihanna is looking for the husband-and-two-kids deal before she turns 25. She believes in fairy tales, and she wants to live hers with Chris. She was totally up front and confessed to him, 'I can't live without you.'
Ha! Si le deja la cara así de novia, no quiero imaginar cómo la dejará de casados.
[bgs]Rihanna, Chris Brown, revistas[/bgs]