Mariah Carey: Video "I Don't"
Mariah Carey estrenó su vídeo musical "I Don't" donde muestra lo sexy que es. HA!
El vídeo se supone es sobre su ruptura con el multimillonario australiano James Packer. Pero Mariah  en realidad está demostrándole a James todo lo que se perdió, y cuan fácil para ella es verse sexy y divina todo el tiempo con todos esos trapos que compró en una sex shop, probablemente para su nuevo novio Tanaka. El vídeo "I Don't" comienza como Maraya escapando de su boda y al final quema el vestido.
TMZ reportó que ese vestido que Mariah quema, es un vestido de novia hecho a medida Valentino, de $250 mil dolaretos, y era el que ella llevaría el dia de su boda con Shrek, en Bora Bora.
El vídeo fue filmado en la mansión en Calabasas donde Mimi vivía con su amado y perfecto prometido multimillonario, James.
Of course, Mariah está echada en la parte de atrás del auto! HA! A ella le encanta estar echada en sus vídeo.  WTF?  Maraya wtf is wrong with you?? SAD! PATHETIC!! Vean el video "I Don't" de Mariah Carey. Enjoy!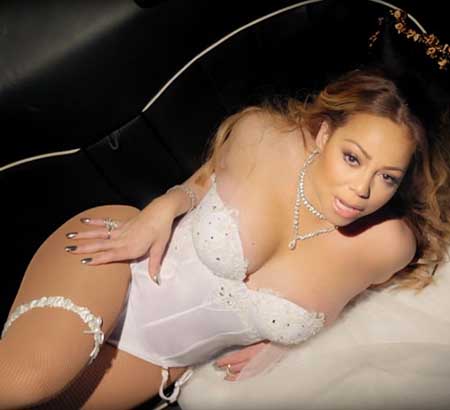 Ah y para los que no creen que la figura de Mariah es completamente natural, aquí una pic de Maraya ejercitandose. LOL!