Foto Oficial: Penelope Cruz como Donatella Versace American Crime Story
Aquí está la foto oficial de Penelope Cruz como Donatella Versace para American Crime Story.
La foto de la tercera entrega de la franquicia de Ryan Murphy muestra a Pe vestida de rosado sentada cual reina con dos musculosos hombres a cada lado detrás de ella, cerca de la piscina en Villa Casa Casuarina, la mansión en Miami donde vivía Ganni Versace y donde fue asesinado. Ya la habíamos visto en unas pics en el set en Miami, donde Pe solo se veía con un cambio de hairstyle, una peluca rubia y ya tenemos a Donatella.
Sin dudar a dudas esta en la más anticipada temporada del 2018, The Assassination of Gianni Versace: American Crime Story.  Antes, Versace: American Crime Story. La serie de FX tiene un gran elenco, entre ellos a Darren Criss como Andrew Cunanan, Edgar Ramirez como Gianni Versace, Ricky Martin como la pareja de Gianni, Antonio D'Amico, y of course, Penelope Cruz como Donatella.
Entertainment Weekly publicó la primera imagen oficial de Cruz como Donatella, quien tomó el control de la casa de modas de su hermano luego de que Cunanan lo asesinara en 1997.
"The American Crime Story" también está trabajando en su segunda temporada la cual será sobre el huracán Katrina y los hechos luego de la tragedia en New Orleans. Esta temporada estará protagonizada por Annette Benning, como Kathleen Blanco, la Gobernadora de Louisiana durante y después de Katrina, Matthew Broderick como Michael D. Brown, el Director de Agencia Federal de Emergencias; y Dennis Quaid como el Presidente George W. Bush.
So,  Penélope se ve muy bien de rubia. HA!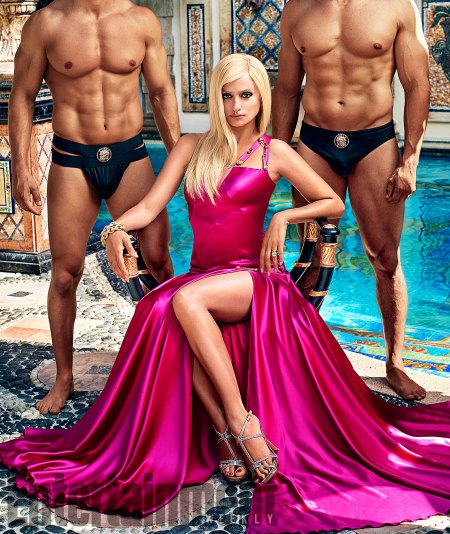 Encuentren las 10 diferencias. Bahahahahhaha…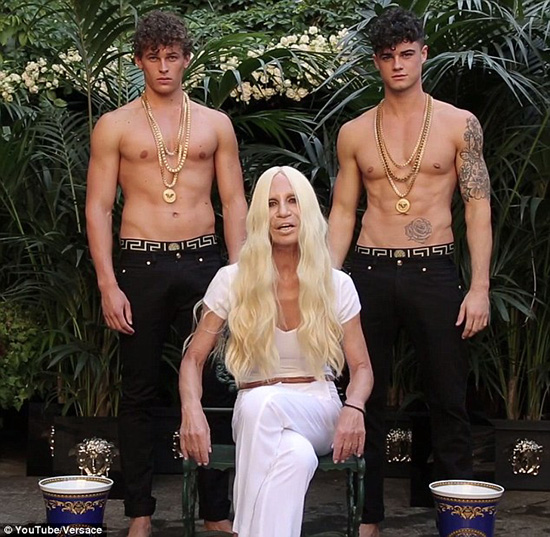 Donatella Versace haciendo el ALS Ice Bucket Challenge
Gracias Lolarosa, por enviar la pic real, LOL! 😉