Angelina Jolie se deprime por su reciente film
Angelina Jolie está deprimida por la poca atención y recepción que tuvo su más reciente film "A Mighty Heart", el cual solo ha recaudado $9 millones de dólares. Ella dice que puso todo su corazón en esta historia y no puede creer que el público no entienda su importancia, dice un allegado a US Weekly. Angelina Jolie is "devastated" by the audience rejection of her movie A Mighty Heart, it has earned just $9 million. "She poured her heart into the story and can't believe people don't understand how important it is," the insider tells Us Weekly.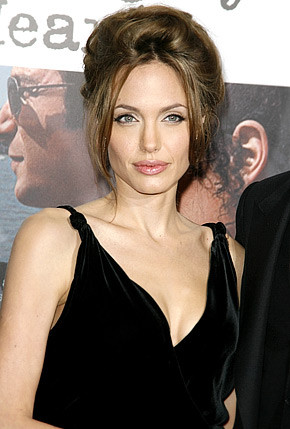 Tal vez el público no se creyó el papel de Angelina, quien hace en el film de Mariane Pearl una mujer de color, esposa del Periodista Daniel Pearl asesinado en Pakistan mientras hacía su trabajo. A pesar de que obtuvo buenas críticas por su actuación, que incluso la perfilan como nominada al Oscar, Angie no queda como una mujer de color. Aunque se broncee, se coloque una peluca y lentes de contacto negros, Angelina nunca podrá hacer papeles de mujer negra, o de color. Es como poner a Brad Pitt a hacer papeles de africano o de coreano, por favor!! Yo solo por eso, no quise ver el film. Maybe the public didn't believe Angelina's role. Angie plays Mariane Pearl a bi-racial woman, wife of the Journalist Daniel Pearl murdered in Pakistan while he was doing his job. In spite of the good reviews for her performance, which maybe give to her an Oscar Nomination. Angie is not a bi-racial actress, so she can't be a bi-racial character. We don't care the black wig, dark tan or black lenses. It would be like Brad Pitt doing African or Korean roles, Come on!! Just because of it, I did not want to see this movie..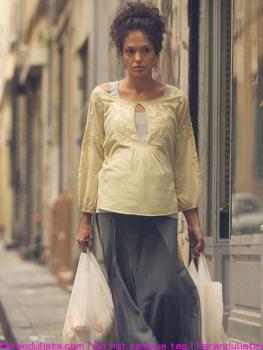 Para calmarse se ha ido con Brad y sus niños a Francia. Ambos desean alejarse de todo y creen que Francia es el mejor lugar para ello. Helping to lighten her mood: a vacation in France with Brad Pitt and their four kids. Says an insider, "Brad and Angelina wanted to get away from everything, and France is a great place to do that."
[bgs]Angelina Jolie, Brad Pitt, Brangelina, fotos[/bgs]
N.E= Para aquellos Farandulistas que me enviaron correos preguntando qué pasaba con Brangelina? Divorcio? Separados? Brad Volvió con Jennifer? Siempre hay rumores de Brangelina y el rumor favorito es que se van a divorciar. Pero solo fue eso un rumor. La revista que afirmó esto es Life&Style la misma que dijo que Brangelina se había casado (yo tengo esa noticia aquí ¬¬) Ellos también dijeron que Maddox le lloraba a Brad que no los dejara. Saquen sus conclusiones. 😉