Brangelina adopta otro niño Vietnamita
Brad Pitt y Angelina Jolie ha introducido papeles para adoptar a otro niño de Vietnam, de acuerdo a un comunicado de prensa. Brad Pitt and Angelina Jolie have filed paperwork to adopt a boy from Vietnam, according to press reports.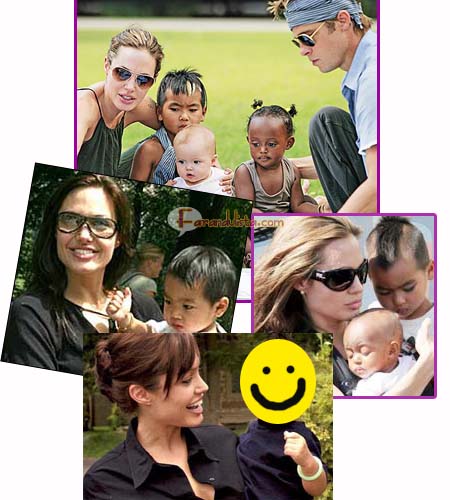 Si vamos a tener 10 hijos, nos gustaría criarlos mientras somos jóvenes. If we're going to have 10 kids, we'd like to raise them while we're young
Brangelina tiene tres hijos, Maddox, de 5 años, Zahara, de 2, y Shiloh, de 9 meses. Maddox y Zahara son adoptados. Una Fuente en Vietnan le contó a US Weekly que la pareja ha introducido Papeles al Departamento de Ciudadanía Americana e Inmigración para adoptar un niño del  Orfanato de   Tam Binh  en Ho Chi Minh, donde ellos estuvieron en Noviembre. Brangelina have three children — Maddox, 5, Zahara, 2, and Shiloh, 9 months. Maddox and Zahara are adopted. A source in Vietnam tells US Weekly the couple have filed papers with the U.S. Citizenship and Immigration services to adopt a boy from the Tam Binh orphanage in Ho Chi Minh City, which they visited in November.
La pareja ha afirmado que desean criar niños de todas partes del mundo. Su hijo Maddox nación en Cambodia, Y Zahara es nacida en Etiopía. Their son Maddox was born in Cambodia, while daughter Zahara was born in Ethiopia. The pair have long been vocal about their desire to raise more international children.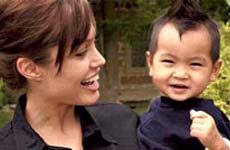 Adoro esta foto!
Qué suerte la del niño que sea adoptado por Brangelina. A veces pienso que es muy bueno lo que hacen ellos, pero en USA y Latinoamérica  también hay niños que necesitan ayuda. Podrían mirar en su propio continente. Lucky child who is adopted by Brangelina. I think is a Good Action what they are doing, but they can adopt a child from USA or Latinamerica… Right?