Rose McGowan explica lo de su rostro
Desde hace unas semanas todo el mundo está hablando del rostro de Rose McGowan (Charmed), que si muchas cirugías, que si luce vieja. Rose es una de las actrices más hemosas de Hollywood (o era?) En la fiesta de VanityFair-Oscar yo noté algo extraño en el ojo derecho de Rose, pero no me pareció gran cosa  – bolsas, acumula agua debajo de los ojos- pensé. Aún así siempre quedé con la duda, y ahora con estas declaraciones de Rose, donde cuenta que estuvo en un accidente de auto, en el cual colisionó con otro y se le salieron los lentes de contacto, en los golpes el lente le cortó cerca del ojo derecho, todo queda "algo" más claro. Ella estaba muy asustada pero encontró un buen cirujano.
Everybody talks about Rose McGowan Faces, surgeries, Lip augmentation and so on… But WTF happened to her face? She used to be this porcelain-skinned goddess, and now she's a fug mess! In VanityFair Oscar Party I noted  something rare in her right eye, but I thought… undereye bags! No, she had a bandaid in her right eye! Now She told about it: She was a passenger in a car that collided with another, and the accident pushed her eyeglasses into her face.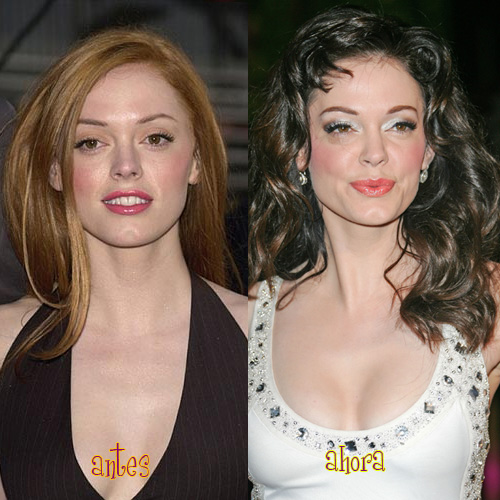 Noten la diferencia de sus ojos, la foto actual es de la Fiesta del Oscar VanityFair
No me di cuenta que estaba herida hasta que puse mi mano en mi rostro y sentí el pedazo de piel. Mis lentes se habían roto en mi cara. I didn't realize I was hurt until I put my hand to my face and felt the flap of skin. My glasses had sliced me under my eye,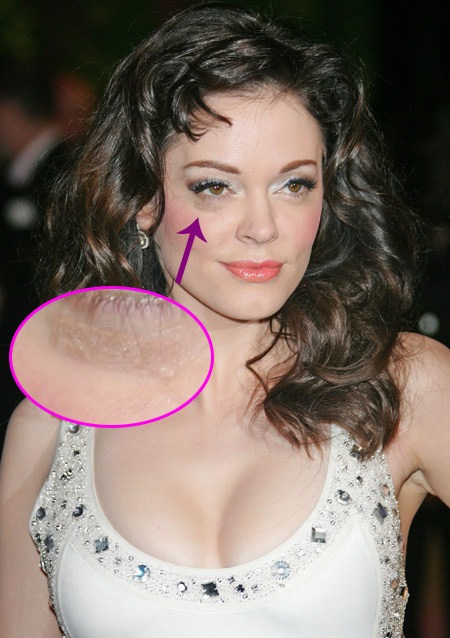 Vean la bandita justo debajo de su ojo derecho, es del mismo color de su piel…casi.
Note tha she has a band-aid under her right eye, is almost the same color of her skin.
Aún así me parece que ella se ha hecho algunos arreglitos, su rostro se ve muy diferente al de antes. Ella era hermosamente estraña, con esa aura de misterio terror (recuerdan que ella fue novia de Marilyn Manson?) ahora solo parece una mujer terroríficamente extraña. No entiendo esa obsesión de las Celebridades por llenarse la cara con colágeo y bótox… Ewwwww… I think she has some nip tucks, her face looks really different… The accident is an excuse… Her faces is melting or something. She used to be gorgeous, extrange but beautiful, now she's a mess.  This obssesion for botox and colagen… I don't get it…