Kirsten Dunst se emborracha en Londres
Kirsten Dunst, la estrella femenina de Spiderman 3, se embriagó en Londres luego de asistir al estreno de su película. Kirsten Dunst gets crazy and drunk in London  after Spiderman 3 Premier.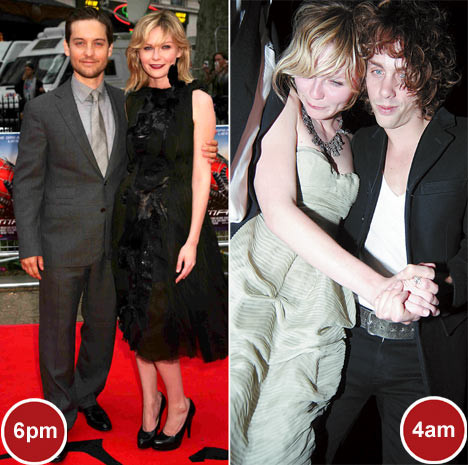 a Kiki le gusta la diversión, ella comenzó la noche a las 6pm en el estreno del film en Leicester Square. Ella vestia su horrible vestido negro bajo las rodillas. Kiki loves Fun, she began the evening at 6pm looking bright-eyed and bushy-tailed on the red carpet in Leicester Square. She wore a demure high-necked dress which reached below the knee.
Pero un par de fiestas después, ella, que ya se había cambiado el vestido a uno dorado, mini y escotado de hombros, se veía muy desaliñada y tambaleante. Luego del estreno de Spiderman 3 ella se fue a las fiestas que dan luego de los estreno (afterpartys), primero al Freemason's Hall en Covent Garden, luego de eso el novio, Johnny, la llevó a Hawley. Finalmente llegó a su hotel, el Covent Garden a las 4 de la madrugada. But two parties later, Kirsten — who by now had changed into a shorter dress with a bustier bodice — was looking more than a little dishevelled. After the Spider-Man 3 premiere, she went on to the afterparty at the Freemasons' Hall in Covent Garden. After that, Johnny whisked her off to the Hawley. She eventually stumbled back to the Covent Garden Hotel just before 4am.
Se ve de lo último, la cara de  vampiro se le ve peor cuando está borracha. She looks like crap, her vampire faces…ewwww… she looks worst when she's drunk…