Britney Spears pide ayuda a sus fans
Britney Spears nuevamente se dirige a sus fans para solicitar la ayuden a escoger el título de su próxima producción: Britney Spears is asking her most die-hard fans for some assistance in orden to name her upcoming album:
Los posibles títulos son:
Omg is Like Lindsay Lohan Like Okay Like (sería algo como: Ooh por dios es como Lindsay Lohan… como, ok, parecida)
What if the joke is on you (que tal si el chiste es sobre ti)
Down Boy (Chico abajo)
Integrity (Integridad)
Dignity (Dignidad, aunque este es el título del album de Hilary Duff… Mmmm)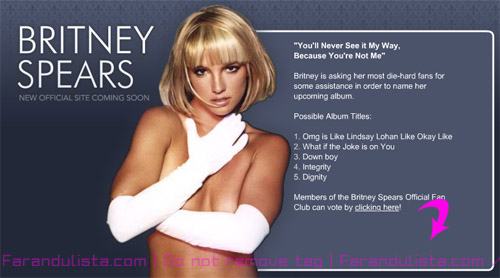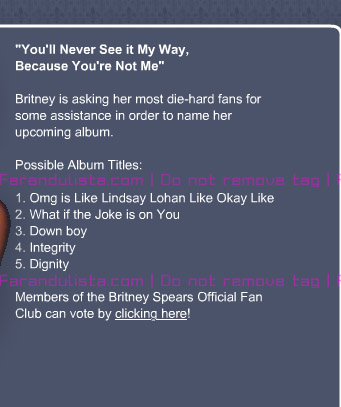 Hahahahaha, ok, esta vez le quedó gracioso … porque supongo que esto es un chiste, verdad? Y ya que jugamos le quedarí bien Integrity (Integridad) porque de eso… NADA!! Por cierto, nice photoshop el de la web… Ok, ok this is a good one, very funny Brit. I think "Integrity" would be a nice title for her upcoming album… of course this is a joke, Britney doesn't have Integrity… Ha!
[bgs]Britney Spears, website, mensaje, fans[/bgs]