Amber Heard retira demanda contra Doug Stanhope
Amber Heard retiró la demanda contra Doug Stanhope. Como recordarán, y si no, les recuerdo, Stanhope es amigo de Johnny Depp y se le ocurrió escribir un "ensayo" donde acusaba a Amber de ser una maldita manipuladora chantajista.
Doug afirmó en un ensayo publicado por  The Wrap, que Amber inventó todo eso de la violencia doméstica contra Johnny y lo usó para chantajearlo para obtener una gran acuerdo de divorcio.
Well, Amber respondió al "ensayo" con una demanda por difamación. Pero como Amber y Johnny llegaron a un acuerdo de divorcio, y todo el drama FINALMENTE terminó, ella decidió retirar la demanda contra Doug y seguir con su vida.
Fuentes dijeron a TMZ que retirar esta demanda contra Stanhope era parte del trato de divorcio con Johnny. Claro, cuando ellos firmaron los documentos de divorcio, todas las demandas conectadas al caso de violencia doméstica, desaparecen. El team de la actriz de 30 años solo dijo:
"Amber está siguiendo adelante, volviendo al trabajo y a una vida normal y feliz."
Well, Good Luck!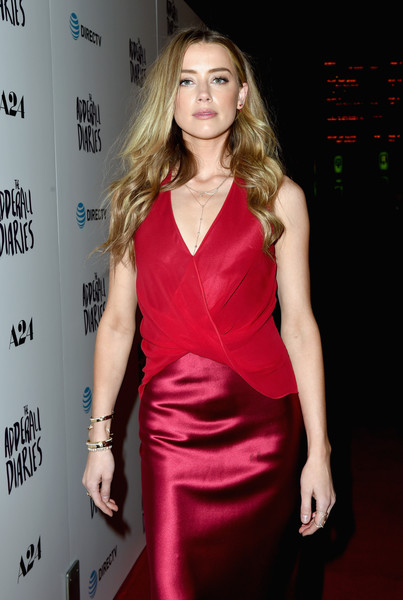 Por cierto, en una entrevista de The Daily Beast a Marilyn Manson, le preguntaron por todo este rollo del divorcio de Johnny y Amber. Of course, Marilyn es el padrino de la hija de Johnny, Lily-Rose y  no tiene si no cosas lindas que decir de su compadre. HA!
"Johnny es una de las personas mas agradables que conozco, en la medida que es casi desgarradora lo amable que es con sus amigos y todos a su alrededor. Yo sé que fue completamente crucificado injustamente.

Lo apoyaría en todo. Como mi amigo, sé que lo está manejando lo mejor que puede y es un gran padre también. Me llena de alegría ver a sus hijos crecer y ser tan inteligentes y tan divertidos. Hicimos un show juntos no hace mucho. Es difícil cuando hablas de tus amigos. Por supuesto que creo que toda eso fue pura mi*rda, y creo que él es una gran persona. Yo no estaría de acuerdo con nada de eso si alguien me pusiera en el estrado y me preguntara lo que se o lo que he presenciado."