Katie Holmes y Jamie Foxx: Casados en secreto en París (OK!)
La nueva OK! magazine dice que Katie Holmes y Jamie Foxx se casaron en secreto en París. Hubo fuegos artificiales en la Torre Eiffel, se gastaron $230 mil dolaretos en champagne y en un vestido de novia a la medida. La Honeymoon fue en Miami. O sea! Todos los detalles…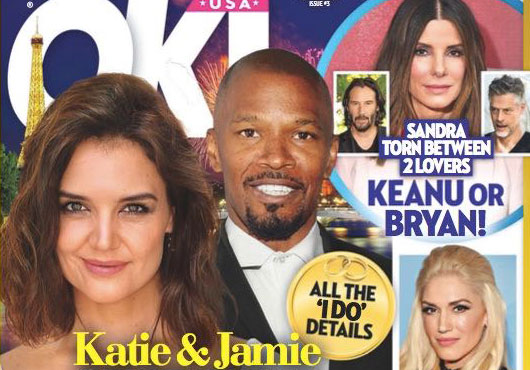 El mes pasado Katie y Jamie celebraron los 40 años de la actriz en una cena en New York city con la madre de ella, Kathleen. Según OK! la razón de esta cena fue porque Katie iba a anunciar que ella y Foxx se iban a casar. Un supuesto insider dijo que el actor le pidió permiso a Kathleen para casarse con su hija, y of course, la señora dijo… yes!
La pareja se fue a París días después, e hicieron la boda de sus sueños en el más intimo secreto. HA!
La revista segura que Jamie y Katie se casaron en el Ritz París hotel en frente de un pequeño grupo de amigos y familiares, incluyendo (obviamente) a su hija Suri, y a las hijas de Jamie, Corinne y Annalise.
"Katie y Jamie mantuvieron esto muy privado y pequeño … y se aseguraron de nadie fuese fotografiado" dice la fuente.

"Sin embargo, ellos gastaron $230 mil dólares en champagne, y dieron a sus invitados fuegos artificiales en la Torre Eiffel".
También dicen que las hijas de ambos tuvieron roles en la boda. Of course!
Holmes y Foxx pasaron los últimos días de 2018 en Miami, pero según la fuente este viaje era la honeymoon secreta.
En noviembre se reportó que ellos estaban planeando su boda en esa ciudad… who knows?
It's funny que para prometer dar detalles no digan nada en absoluto.  LOL!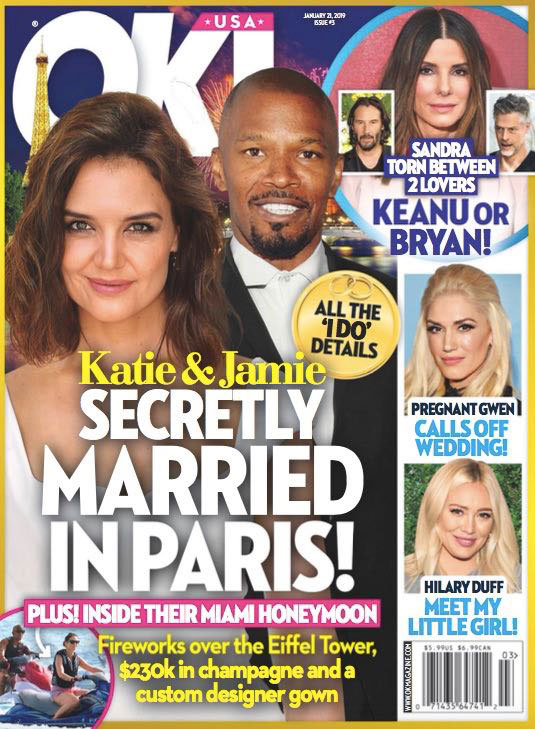 Otros cuentos/reportes de OK! esta semana:
Sandra Bullock entre dos amores Keanu (Reeves) y Bryan (su pareja).
La embarazada Gwen Stefani cancela la boda. Gwen ha estado embarazada un año entero.
Hilary Duff: conozcan a mi niñita.