Nominaciones a los Premios Razzie 2019
Ya se conocen las nominaciones a los Premios Razzie 2019 que honra a lo peor del cine. John Travolta, Melissa McCarthy, Bruce Willis, Jennifer Garner y Donald Trump están entre los nominados para la celebración de la edición 39 que premia a las peores películas del año pasado.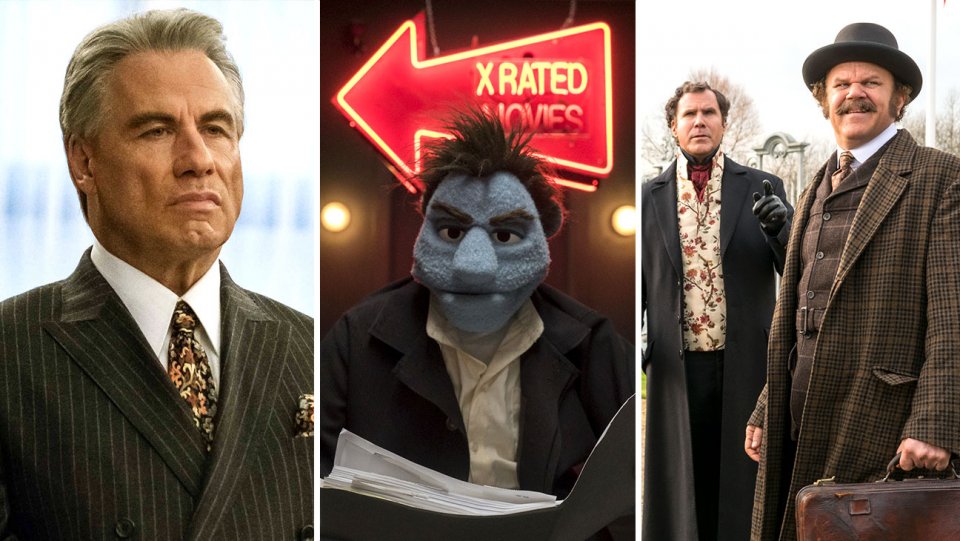 Entre las peores películas nominadas este año, contrarias a las Mejores del Oscar, se incluyen Gotti, The Happy Time Murders, Robin Hood, Winchester y la "comedia que admite en su propia promo que no tiene una pista" – dicho por los Razzie en su anuncio – Holmes & Watson.
Entre los nominados a peor actuación están John Travolta por Gotti, Melissa McCarthy por The Happy Time Murders y la película Life of a Party, Bruce Willis por Death Wish y Jennifer Garner por Peppermint. Donald Trump está nominado por su aparición en videos de archivos en los documentales Death of a Nation y Fahrenheit 11/9.
A continuación la lista completa de los Nominados a los Premios Razzie 2019.
Peor Película:
Gotti
The Happytime Murders
Holmes & Watson
Robin Hood
Winchester
Peor Actriz:
Jennifer Garner / Peppermint
Amber Heard / London Fields
Melissa McCarthy / The Happytime Murders and Life of the Party
Helen Mirren / Winchester
Amanda Seyfried / The Clapper
Peor Actor:
Johnny Depp (Voz) / Sherlock Gnomes
Will Ferrell / Holmes & Watson
John Travolta / Gotti
Donald J. Trump (como él mismo) / Death of a Nation and Fahrenheit 11/9
Bruce Willis / Death Wish
Peor Actor de Reparto:
Jamie Foxx / Robin Hood
Ludacris (Voz) / Show Dogs
Joel McHale / The Happytime Murders
John C. Reilly / Holmes & Watson
Justice Smith / Jurassic World: Fallen Kingdom
Peor Actriz de Reparto:
Kellyanne Conway (como ella misma) / Fahrenheit 11/9
Marcia Gay Harden / Fifty Shades Freed
Kelly Preston / Gotti
Jaz Sinclair / Slender Man
Melania Trump (como ella misma) / Fahrenheit 11/9
Peor Combo en Pantalla:
Cualquiera de los actores o marionetas (especialmente en esas escenas creepy de sexo) / The Happy Time Murders
Johnny Depp & Su rápida carrera en declive (Esta hacienda voces para caricaturas, fer kripesakes!) / Sherlock Gnomes
Will Ferrell & John C. Reilly (Llevando a la basura dos amados personajes de la literatura) / Holmes & Watson
Kelly Preston & John Travolta (obteniendo críticas tipo BATTLEFIELD EARTH!) / Gotti
Donald J. Trump & su perpetua mezquindad / Death of a Nation & Fahrenheit 11/9
Peor Remake, Rip-Off o Secuela:
Death of a Nation (remake of Hillary's America…)
Death Wish
Holmes & Watson
The Meg (rip-off of Jaws)
Robin Hood
Peor Director:
Etan Cohen / Holmes & Watson
Kevin Connolly / Gotti
James Foley / Fifty Shades Freed
Brian Henson / The Happytime Murders
The Spierig Brothers (Michael and Peter) / Winchester
Peor Guión:
Death of a Nation, escrita por Dinesh D'Souza & Bruce Schooley
Fifty Shades Freed, guión por Niall Leonard, de la novella de E.L. James
Gotti, guión por Leo Rossi y Lem Dobbs
The Happytime Murders, Screenplay by Todd Berger, Story by Berger and Dee Austin Robinson
Winchester, Written by Tom Vaughan and The Spierig Brothers
Qué opinan Farandulistas? Vieron estas películas? Yo vi The Happy Time… (wtf) y Winchester, meh… Life of The Party… mala, Peppermint… Mmm… entretenida…